James from Victoria talks work, saving and super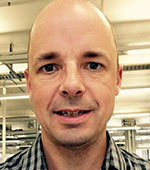 In the first of our new regular column*, we meet new customer James from Victoria.
Weekends spent relaxing with friends and family, and the odd game of cricket and tennis to keep in shape is helping James settle in to his new job. Find out more as James takes the Mercer Minute challenge.
MM: Tell us about your new job and what you like about it?
JD: My new job is with a beverage company. I like the new challenge …and working with and developing a great team.
MM: What are you saving for?
JD: A new car.
MM: What makes you happy?
JD: Making a difference and adding value at work. Spending time with family and friends on the weekend; keeping active through playing cricket or tennis.
MM: What do you hope to achieve in the next six months?
JD: Continue to lay a framework to set my team and the company up for success. Go on a family holiday; probably in Queensland where it's warm (to) escape the Melbourne winter.
MM: What super hero would you be for a day?
JD: Spiderman, no particular reason.
MM: Is there something you have always wanted to know about superannuation but have never known who to ask?
JD: Is it still $25K per year that you can contribute over and above your super contribution per year?
MM: No. It's not quite as simple as that. For the 2015/2016 year, employers are required to contribute the equivalent of 9.5% of an employee's ordinary times earnings as Superannuation Guarantee (SG) contributions. However, this forms part of two annual concessional contributions caps you need to be aware of when considering before-tax contribution strategies:
- $30,000 cap for anyone aged 48 or under as at 30 June 2015.
- $35,000 cap for anyone aged 49 years or over as at 30 June 2015.
Your employer's SG contributions count towards the cap, so if you are making additional contributions under a salary sacrifice arrangement you should check that they don't exceed the concessional contributions caps in place for the current financial year.
Find out more about super contributions.
*Mercer Minute with... is a new regular column in which we introduce you to some of our newest members.